Culture | By Jam Nitura – A day ago
You Have to See This Magical Mermaid-Themed Debut
This girl lived out her ocean princess dreams!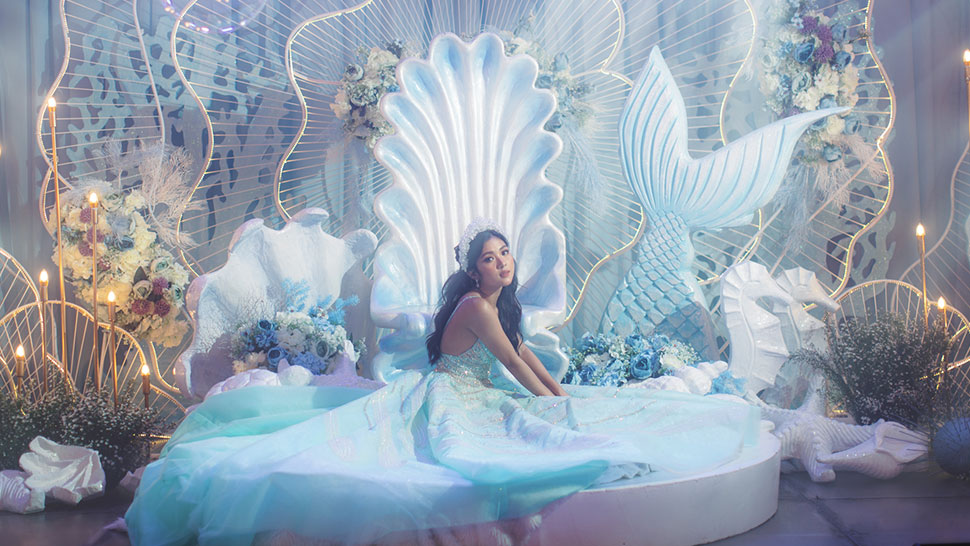 IMAGE Randolf Evan Castro10.5K Shares Share Tweet Pin Comments
A girl's 18th birthday is often attributed to a grand celebration of her transition into adulthood. It's the one special day where all her young hopes and dreams can come into fruition. Whatever she so desires, her parents oblige. For Eunice Trinidad, ringing in the big 1-8 meant getting to live out the mermaid fantasies of her childhood. "She really knows what she wants. She loves mermaids, and I know that to become a mermaid is really her and her sister's dream," her events planner, Rhed Sarmiento tells Preview. Besides, with the hype of The Little Mermaid live action casting news in tow, who wouldn't love to see an under-the-sea themed aquatic debut?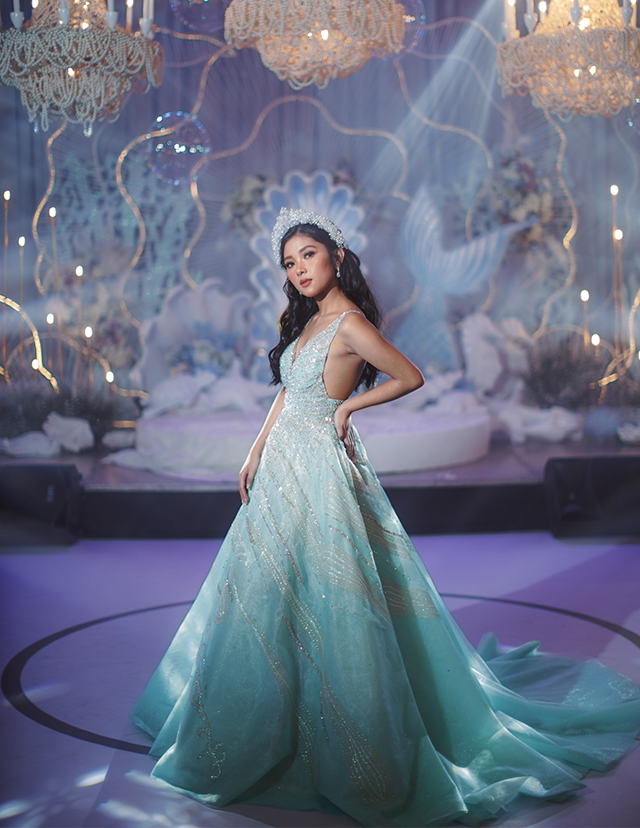 Check out all the details of Eunice's mermaid-themed debut below:
Crafted by designer Anthony Ramirez, Eunice wore a refreshing and youthful mint-green gown rendered with a pleated ball skirt.
PHOTO BY RANDOLF EVAN
"Unlike my past debutantes who wanted grand, big gowns, Eunice's was different. She went for comfort but still with great elegance," her wardrobe stylist Jeff Galang tells Preview. According to Jeff, the embroidery details of the dress itself were made to mimic oceans waves.
PHOTO BY RANDOLF EVAN
Keeping with her underwater theme, Eunice's second dress—also designed by Anthony—was a white sheer number meant to resemble a clam pearl.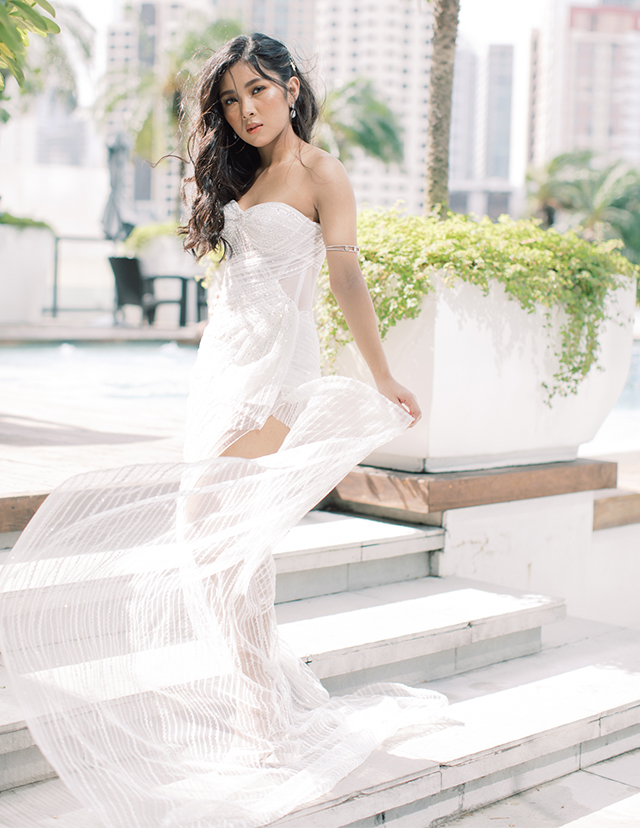 As for her beauty look, she was dolled up by celebrity makeup artist Jelly Eugenio. Truly the sea-princess of the hour, the debutante also donned a tiara decked in Swarovski pearls and crystals custom-made by her sister Ennah Trinidad herself.
PHOTO BY RANDOLF EVAN
Of course, what's a Little Mermaid without her humble ocean abode? Peek how events stylist Michelle Lao of Party Magic PH transformed Whitespace Manila into an atmospheric underwater sea cave, complete with coral-decorated chandeliers overhead. She even had a clam shell for a throne!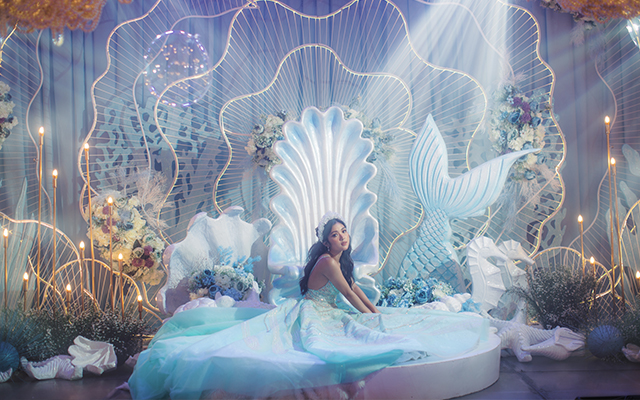 Happy 18th birthday, Eunice! We hope all your wishes came true!
#BridalBeauty: Ennah Trinidad Defines Classic and Timeless Glam
Whenever we ask brides how they want to look on their wedding day, these two words are the most frequently said: classic and timeless. But what does classic and timeless look like? It means looking just like how you do every day, but with the enhancement of your best features: livelier eyes, extra glow, a bit of blush. It also means that people (especially those relatives you haven't seen for years) still recognize your face despite your little makeover.
Makeup artist Ennah Trinidad could be counted on to give her brides this look! Scrolling through her Instagram page, we noticed the minimal usage of eyeshadows, false lashes with just the right amount of thickness settled on the lids, and natural-looking brows.
Ennah's technique looks almost formulaic, but don't be fooled! It takes great talent to be able to read your muse's face and know what suits them, which is reflected in her work on brides who range from morenas to fair-skinned women, as well as chinitas and almond-eyed brides.
When we said that Ennah could work on any canvas, the principal sponsors and our parents are included as well! We love how Ennah could bring out your freshness, whichever age group you belong to.
For bookings and inquiries, get in touch with Ennah through byennahtrinidad@gmail.com or visit her website.
March 4, 2019 Wedding Essentials Beauty Bridal beauty, bridal makeup, bridal makeup artist, ennah trinidad, makeup artist manila, wedding makeup
A Garden Wedding with Muted, Crisp, and Textured Details
MAY 1, 2019 / POSTED BY PIA IN REAL WEDDINGS
Being both photographers, Evan and Raiza made sure that the details of their big day were visually pleasing at all angles. They used contrasts to add texture to their white and gray theme. The bride's cloud-like tulle wedding dress created a soft background for the wispy and muted dried floral bouquet she always wanted. The rugged edges of their invites and the use of line drawings softened and added character to their clean and almost minimalist vibe. But what I love most about this set is the warmth it exudes. MangoRed did a good job in capturing the overwhelming love that took place that day and we're sure you'll feel it too, so scroll down to see more.
Photographer: MangoRed / Videographer: Ghe Consolacion Event Film Maker / Bride's Dress: Von Lazaro Design / Bridesmaid Dresses: Vee Tan Studios / Ceremony and Reception Venue: Antonio's Restaurant / Preparation Venue: Hacienda Isabella / Event Stylist: Gathered Creative Co. / Rental Furniture: K & N Events Rental / Cake Baker: Lucille's PH / Reception Band: Skylight PH / Wedding Planner/Coordinator: Canaan Celebrations by Jets & Rhona / Host: JC Alelis / Makeup Artist: Ennah Trinidad Makeup Artistry / Hairstylist: Art of Hair by Carlo UmipigTagged:Antonio's Restaurant / Canaan Celebrations by Jets & Rhona / Gathered Creative Co. / Ghe Consolacion Event Film Maker / Hacienda Isabella / JC Alelis / K & N Events Rental / Lucille's PH / MangoRed / Skylight PH / Vee Tan Studios / Von Lazaro Design
ABS – CBN 2019 BALL
#BridalBeauty: Ennah Trinidad Defines Classic and Timeless Glam




ASIAN DRAGON
REAL WEDDINGS
SY- MUÑEZ

DISMANTLE ME
http://www.scenezone.com/preview/april-2017/sofia-andres
Makeup • Hair @byennahtrinidad
Photography @jnpascual
Styled @leanneledesma
Model @reyes_cassie
http://www.scenezone.com/preview/april-2017/sofia-andres